Our line of Catahoulas has been developed over the years by beginning with a sound foundation. Our foundation stock lines were Traxler, Blair, Aden, and Balentine. We have introduced other lines into our program and chosen those dogs very carefully. We were determined to prove that a Catahoula could be a smart, strong, working dog with a good temperament. Through our studies and breeding program we have produced puppies that possess these qualities.
Click on the pictures for Full View.
Abney's Bear Scout
Male - DOB 6/11/07
Sire: GRCH Stone Throw's Reagan
Dam: CH Dumar's Twilight

Brewster's Winona
Female - DOB 2/12/08
Sire: Aden's Hoss Cartwright
Dam: Aden's Adison

Abney's Lusa
Female - DOB 11/30/08
Sire: CH Abney's Tatanka
Dam: Abney's Belle

Aden's Hoss Cartwright
Male - DOB 10/17/05
Sire: Conch's Gene Autry
Dam: Aden's Tigger

CCH Abney's Catori
Female - DOB 8/12/10
Sire: GRCH Double Ott's Raptor
Dam: Brewster's Winona

CCH Abney's Kaya
Female - DOB 6/17/10
Sire: GRCH Abney's King Augustus
Dam: Abney's Belle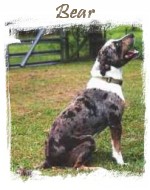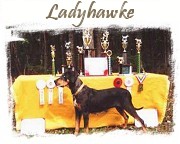 Click on pictures for their story.